We have reached the critical milestone of emerging on the public stage. We are launching a campaign to ensure our innovative solution take its rightful place in the current debate on the public transit infrastructure. Here is the second part of our manifesto about a new era in public transit (Part I here).
Be engaged in our movement.
Like, comment on and share our posts on social media and keep an eye on the #roadtram #trambus hashtags.
Manifesto Part II: A Flexible System for Evolving Cities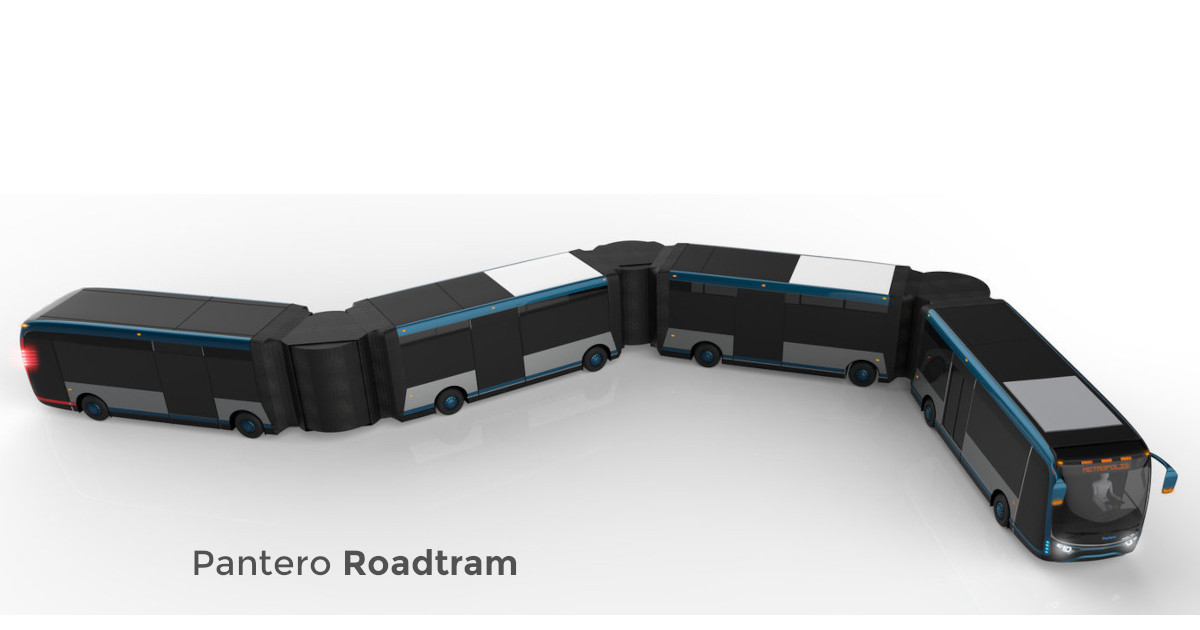 Introducing next level flexibility
Available in numerous configurations (2, 3 or 4 modules — you may call them Trambus or RoadTram depending on the configuration), our objective is to replace the legacy of articulated buses and fill the gap up to the service provided by a mid-range tramway. The ultimate version comprising 4 units, 37 metres long — the size of an average tramway — the Pantero RoadTram can receive up to 300 passengers. With up to 8 electric drive motors and a smart steering system, this vehicle outperforms just about everywhere (even in places you didn't think possible). From dense urban zones to hills and even in intense Canadian winter conditions.
Making the most of public transportation budgets
Whereas tramways and LRTs (light rail transit) require massive investments for their fixed infrastructure and present a very high total cost in terms of $/passenger‑km, the Pantero solution requires no complex infrastructure. A project can begin with only paint on the roads. More dedicated infrastructure may be desirable, but it's all about investing more in the user experience and the quality of service and much less in public works. It's affordable and efficient public transit for all communities, both small and large.
A serious option for tramway and LRT projects
Whether as an alternative or as an essential complement to feeding and expanding rail services, the Pantero RoadTram is a highly adaptable and expandable system that can grow with existing infrastructures, and adapt to the ever-changing needs of urban centres.
Adaptable to new realities
Passenger expectations are changing every single day. With the current pandemic crisis, transit agencies must adapt to a new reality. Pantero Trambuses or RoadTrams are the most effective solution when it comes to avoiding the sardine effect of regular buses by providing more distancing space between passengers. No need for more buses. No need for more drivers.
A movement whose time has come
Better for the environment
The Pantero RoadTram is fully electric and highly optimized for unmatched energy efficiency. Being lighter, it causes less damage to roads, a significant and hidden cost for all cities. Its carbon footprint is much less than any rail solution. This is clean and sustainable public transit at its finest.
Better for the economy
Say goodbye to massive investments for transportation infrastructures. The Pantero RoadTram requires much, much less of a financial injection — public funding, in fact — to get up and running. No need for rail networks. With a minimal initial investment, painting lines to set up reserved lanes, for example, the Pantero RoadTram can also be deployed much more quickly.
Better for the community
Efficient public transportation should be a right for everyone. And the flexibility and affordability of the Pantero RoadTram enable it to be deployed efficiently in just about any community. Going places where traditional articulated buses have difficulty manoeuvring. Going places where tramways can't go and where they don't make economic sense.
It all adds up to a better way
The Pantero project is ready to roll. So much more than a mode of transportation, it truly is a movement. A movement that sprung from our years of high calibre experience in the bus and rail industries, and the realization that there needed to be a better way to address today's environmental, economic and societal realities. With strong support from international partners, we are ready to pave the way forward. Join us as we redefine the future of public transportation today.
Share on social media and join in the discussion